Limited Time Only Trial Offer:
Still Skeptical? Don't Be. Try My Entire Leaky Gut Cure Program RISK FREE and Start Healing Your Gut Today and See If It's Right for You
I know you might still be wondering if the Leaky Gut Cure Program will work for you... and since I truly want to see everyone heal their leaky gut and resolve their chronic symptoms, I have decided to let you try it first and decide later, so you can see for yourself the incredible power of this gut healing program.
Here's How It Works:
You're going to instantly download the complete Leaky Gut Cure Program today with this simple 21-day trial offer.
You pay nothing today, except for a small merchant processing fee ($4.95). That's less than 5 bucks for a program that's going to help you finally get relief from your symptoms.
Start to see the incredible principles and techniques you learn in the program take effect on your health with increased energy, improved mood and quality of life, and feel the best you have in years!
We'll apply the small merchant processing fee ($4.95) you've already paid toward the discounted Leaky Gut Cure Program ($39.95), so the remaining $35 investment in your health will be billed to you at 21 days from today.
You will NEVER be billed again after this remaining $35. Of course, if you decide it's not right for you for any reason, it's as simple as emailing me at any time within the 21-day trial period to cancel. No questions asked. Your trial will be cancelled and your processing fee will be returned to you. No loss or risk to you, whatsoever!
PLUS, you've still got your 60-day IRON CLAD 100% Money Back Guarantee on the remaining $35 + your $4.95 merchant processing fee if you decide at any time that the Leaky Gut Cure Program is not the right for you... Although, I'm pretty confident the Leaky Gut Cure will work for you, just as it has for more than a thousand other people worldwide.
Here's what you'll download today, for less than $5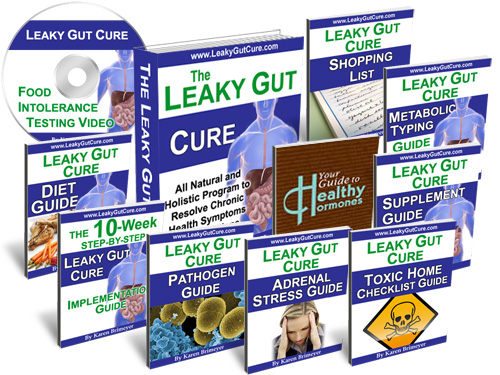 "Hello Karen,

I most certainly have started on your diet,and I have improved 80%. I feel great and hope to feel even better with time after 40 plus years of suffering. I thank you with all my heart. May God bless you and your family for everything."

Juliette Beaine - Melbourne, Australia


"Hi Karen, I have been [Program Secret Removed] each day for the past couple of days and I can feel the benefits already!!!! The pain in my stomach has all but gone and generally I feel much better.

Thanks for helping."

John Cullum - Norfolk, UK

NOTE: The Leaky Gut Cure Program is available as both a downloadable e-book & video as well as a hard copy book & DVD. After you complete your order, you will be given the option to order the physical book & DVD, otherwise no physical products will be shipped. After you order, you will get INSTANT ACCESS to download the e-book and all the bonus reports onto your computer. The e-book format is adobe acrobat PDF, which can be viewed on Mac or PC.